Yalçınlar A.Ş.
Yalçınlar has continued it activities in photography sector since 1958. Its main activity area consists of camera/accessories and photograph/ print/chemical bath retailing.
Yalçınlar is one of the most radical and trusted companies in this sector and retailing. Its main activity area is products and service of photography but it includes many brand and accessory groups demanded by end users.
In retailing, Yalçınlar offers many products of distinguished brands at all segments to end users. Its sales portfolio includes digital photograph cameras, video cameras and accessories of as distinguished brands such  Nikon, Sony, Canon, Panasonic, Olympus, Leica, Sigma, Tamron Bilora, Lowerpro, Manfrotto, Jenix, Matin, Tumax and SanDisk. Yalçınlar aims to deliver all demanded brands and models to its clients with optimum conditions and advantages.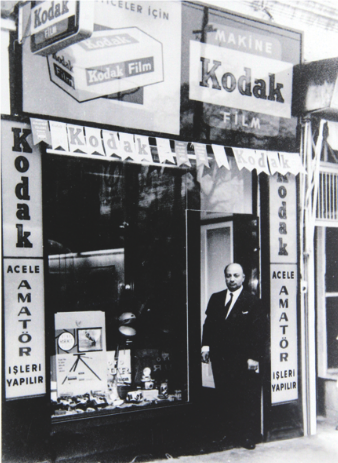 Yalçınlar continues its services with highest technology and its word class sub-structure.  As one of the first users of digital technology,  Yalçınlar's aim is to be the fastest accessible source of  the highest technology. The company that uses the highest technology with its every service is making necessary investments and offers a qualified services to its customers.
Yalçınlar that has had a corner in the sector for 51 years experiences  the pride of  having well-deserved position in the sector. Its success come from its principles of honesty and sense of qualified service.
1958
"Foto Nur" that was established by Hasan Yalçın to sell cameras and accessories in 1958  was managed as Family Corporation till 1984. The company has been operation  as "Yalçınlar Fotoğraf ve Elektronik Ürünler San.Tic.A.Ş."  under management of Hakan Yalçın since then.
Yalçınlar Brands
In 1958, journey of the company started with a small store ; Yalçınlar A.Ş. is now one of the  most radical and trusted companies.  Market studies show that  Yalçınlar has the highest brand recognition and dedication in the photography sector. The most emphasized feature of the company is being radical and trusted company.. (Retailing Institute, August, 2006)
Yalçınlar represent  world's giant brands such Agfa, Minolta, Russel and  Copal  in the photography sector till 2003, and thus has increased chain store day by day.  After 2003, the company has focused on retailing activities. 
Apart from photo print services, Yalçınlar sells electrical products and has become the most preferred partner for the brands  in the photography sector for launching first products.
Strategic partnership with companies specialized at its area,  strong and independent financial structure, radical relationship with suppliers and institutional and specialized image has increasingly strengthened Yalçınlar's position in the market.